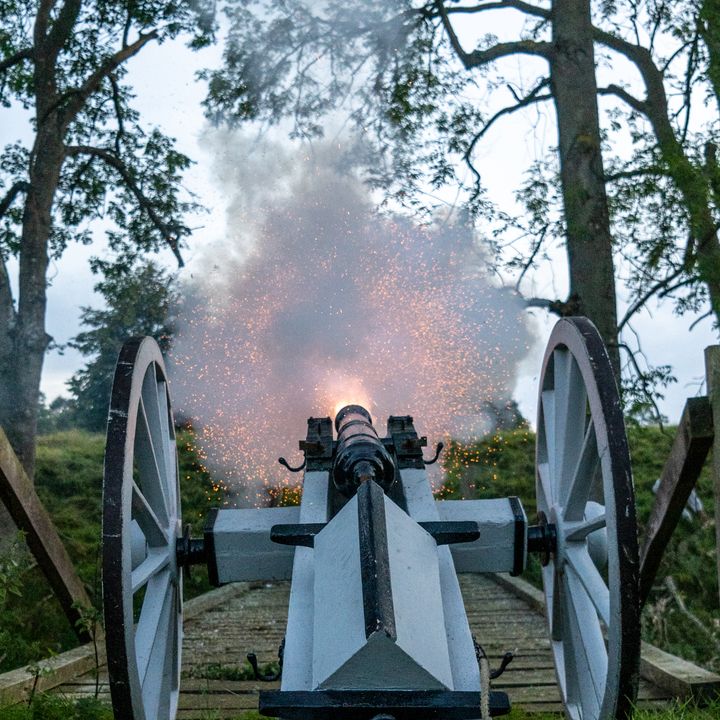 Will you take the King's shilling?
The King's German Artillery is growing! We have more cannons than ever before, which means we need more gunners to fire them!
Send an email to [email protected] if you are interested in joining us!
What's involved?
On joining the KGA, you will be invited to all events attended by the unit throughout the year – there is no minimum commitment; you can choose which events work for you. We attend events across the UK as members of the Napoleonic Association (link) and also several additional private events throughout the year.
Camp life
Most events we attend are 'living history', in which we erect an authentic Napoleonic camp and sleep as soldiers of the day would have – with some additional creature comforts! During the day, members of the public will usually be given access to the camp to talk to us about the unit, the cannons and the life a member of the artillery might have led during the Napoleonic Wars.
The camp is largely maintained by 'camp followers', who choose to wage war on hunger rather than the armies of Napoleon. Keeping an army fed and a camp maintained is no mean feat, and preparing delicious and authentic lunches and dinners on cast iron cookware over a camp fire is a challenge which several of our members tackle with gusto. There are also many other tasks that need doing around the camp which make re-enacting a full family event.
Once the evening rolls around, the KGA campfire is the place to be. The soldiers of the King's German Legion were famed for their musical prowess and this is a tradition we proudly continue to uphold, singing sea shanties and folk songs late into the night.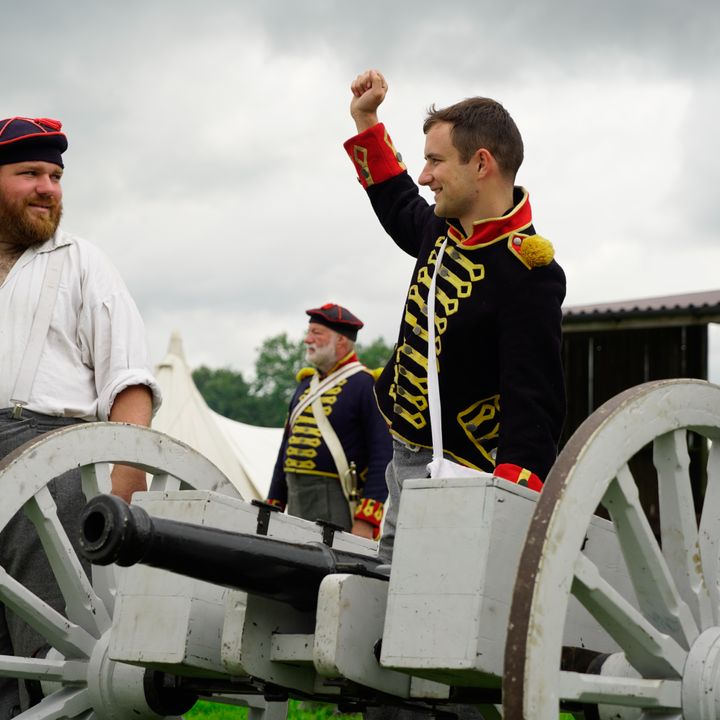 Uniform
The unit has a pool of spare uniforms for new joiners to use for their first season, until they are able to begin acquiring uniform of their own. Uniform will typically be the greatest expense with this unique hobby, although there is a very active second-hand market which can make initial purchases a bit less daunting. See our uniform section (link) for a description of what we wear.
Battles
At most events, we will take part in set-piece battles with other re-enactment units throughout the weekend, in which infantry, artillery and sometimes cavalry will engage in re-enacted combat. The thick gunpowder smoke forms the fog of war, creating a challenge for the commanders of both armies. Our artillery batteries will attempt to whittle down enemy infantry as they advance towards the British lines.
Membership
We charge an annual membership fee of £35 (or payments of £3 per month). These fees help towards the cost and upkeep of unit-owned assets, and other costs such as insurance. As a new member, you can attend several events initially before committing to this to see whether this is a hobby you wish to continue with.
Licenses
You do not require any licenses for your first events. You will usually serve as the firer on the cannon, which means you will not come into direct contact with any gunpowder. However, if you wish to serve in other positions, you will need to obtain one of the following licenses:
Gunpowder license: This is free to obtain. This will enable you to serve as Wormer, Sponger and rammer, or Loader.

Shotgun license: You will need a shotgun license in order to serve as Gun Captain and use muskets.

Firearms license: You will need a firearms license in order to use pistols and other small arms. The unit has a lot of experience with applying for and dealing with these licenses, and members will be happy to help you begin the process when you feel you are ready.