Unit history
We depict the 4th Foot Battery of the King's German Legion Artillery. The King's German Legion was formed from Hanoverian troops directly loyal to the British Georgian monarchy. The unit was recruited by Major Friedrich von der Decken and Major Colin Halkett.
The main regiment was initially based at Hilsea Barracks, Portsmouth, then at Bexhill, Sussex with some units at Lymington in Hampshire and Parkhurst on the Isle of White. Later a separate artillery park was formed at Dorchester Barracks, Portsmouth.
King George III regularly visited the Bexhill barracks when recovering from bouts of Porphyria, enjoying discussion in his native Hanoverian dialect and the famed musical ability of these particular troops.
The 4th Foot Battery saw action at Copenhagen and throughout the Peninsular War distinguishing themselves at Oporto, Talavera, Busaco, Albuera, Ciudad Rodrigo, Salamanca, Vittoria and Orthes. Then, final glorious action occurring at Quatre Bras and culminating in the battle of Waterloo, holding position behind La Haye Sainte in the centre-right of the Allied line on Mont St. Jean ridge. The regiment was commanded by Colonel Christian von Ompteda. Second-in-command was initially Major von Linsingen who was later succeeded by Majors Röttiger then Hartmann. The 4th foot battery was commanded initially by Captain Heise, then Sympher and finally Cleeve at the battle of Waterloo.
Normal ordinance for this battery in the latter stages of the war were six nine-pounder guns and two 5.5-inch Howitzers.
The 4 th Foot would have consisted of approximately 215 men. Normally Sergeants would command each gun, with a Captain commanding the battery or any subsection of the battery (two guns could be detached to launch an attack). A Major would be in direct control of the artillery in one section of the battlefield. He would be assisted by an adjutant, attached to the staff officers to relay orders.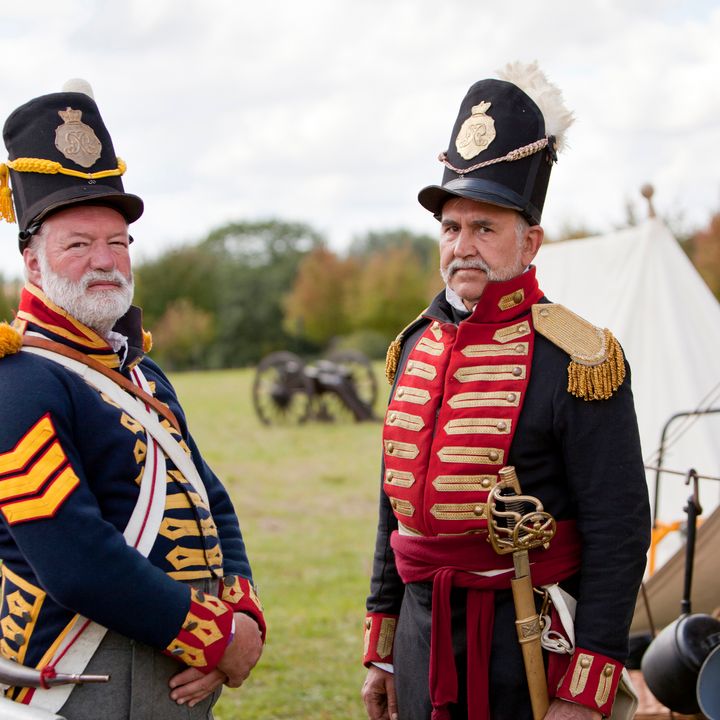 Uniform
The King's German Legion wore uniforms that were overwhelmingly similar to the British units they fought alongside. As such, uniform worn by the King's German Artillery is nearly indistinguishable from that worn by the Royal Artillery.
Pieces of our uniform include:
Headgear - Shako / Forage Cap
Undershirts
Stock
Jacket
Crossbelts – Cartridge pouch, sword belt. Powder Horn. Water canteen
Trousers – pre & Post 1812, peninsular campaign
Footwear – boots / shoes, gaiters